Endowments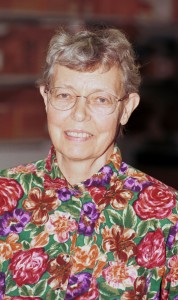 Patty Jo Watson Endowment Fund 
The Patty Jo Watson Fund is a permanent endowment within the American Anthropological Association. This prize honors our esteemed colleague Dr. Patty Jo Watson. Dr. Watson is an internationally recognized scholar of archaeological theory and practice, a valued mentor to several generations of archaeologists, and a long-standing member of the AAA and the National Academy of Sciences. Income from the endowment will fund the speaker honorarium and travel expenses for the Patty Jo Watson Distinguished Lecture held annually at the American Anthropological Association Annual Meetings.
Many thanks to the generous donors. Generous contributions at the end of 2017 have now fully funded the Patty Jo Watson Endowment Fund so that it will be self-sustaining. Further donations are always welcome to help this initiative grow.
Become a Founding Donor!
To make a payment, please use this link for secure on-line credit card payment or go to http://bit.ly/PattyJoWatsonFund to donate.
You can also mail payment directly to the American Anthropological Association. Please make checks payable to the AAA, with a note in the memo line indicating the amount is to be directed to the "Patty Jo Watson Endowment Fund" and mail your check to:

American Anthropological Association
Attn: Accounting (Donation)
2300 Clarendon Blvd, Suite 1301
Arlington , VA , USA 22201-3357
The AAA is a 501(c) (3) non-profit organization, and your gift may be tax deductible according to law. Please consult your personal tax advisor for appropriate deductibility.
Donations of any amount are welcome
Donor recognition categories are as follows:
Platinum ($1000+), Gold ($500-$999), Silver ($250-$499), Bronze ($100-$249), and Earth (up to $100).
Those donors contributing at recognition level who wish to be publicly acknowledged will have their names displayed by donation level here on the AD website.
–
The AD gratefully acknowledges the contributions of the following individuals to the Patty Jo Watson Endowment:
Platinum Level ($500-$999)
Timothy K. Earle
Susan D. Gillespie
Charles L. Redman
Gold Level ($500-$999)
Elizabeth Chilton
Charles R. Cobb
Jeffrey S. Dean
Severin Fowles
John Kantner and Cynthia Hotujec-Kantner
Janet Levy
Patricia A. McAnany and Peter D. Joyce
Kostalena Michelaki-Schwartz and Gary Schwartz
Katherine Spielmann
David H. Thomas
Silver Level ($250-$499)
Jane Eva Baxter
Charlotte M. Cable
Zoe Crossland
Timothy A. Kohler
Adria LaViolette
William D. Lipe
Thomas C. Patterson
Kenneth E. Sassaman
Alison Wylie
Bronze Level ($100-$249)
Anna Agbe-Davies
April M. Beisaw
T. Michael Blake
Chip Colwell
T. J. Ferguson
Diane Gifford-Gonzalez
Lynne Goldstein
Barbara Little
Lisa Lucero
Naomi Miller
Barbara Mills
Hattula Moholy-Nagy, PhD
In memory of Georgia Mudd Britt
Susan Pollock
Thomas Rocek
Nerissa Russell
Jeremy A. Sabloff
Joe E. Watkins and Carol J. Ellick
David Webster
Earth Level (up to $100)
Tiffany Cain
Catherine M. Cameron
Susan Chandler
Jason De Leon
William Green
Christopher Pool
Alison Rautman
Christopher Rodning
Kathryn Sampeck (in memory of Howard H. Earnest, Jr.)
Ruth Van Dyke
Marcie L. Venter
                                                                                                                                                                **********************************************************************************************************
Gordon R. Willey Endowment Fund
The Gordon R. Willey Endowment Fund is a permanent endowment within the American Anthropological Association. This prize honors the memory of Gordon Randolph Willey (1913-2002), Charles P. Bowditch Professor of Central American and Mexican Archaeology at Harvard University and one of the few archaeologists to have served as AAA President (1961). Income from the endowment will fund the $1000 Gordon R. Willey Prize, annually presented by the Archaeology Division to the author of an exceptional archaeological paper published in the American Anthropologist.
Thanks to the generosity of the AD Membership, the Gordon R. Willey Endowment has been funded. We acknowledge our leading donors here with their permission. Thank you to everyone who helped to support the funding of the Endowment.
Founders are those who donated in the inaugural year of the funding campaign (2005-6) and Supporters are those who donated after 2006.
Founders of the Gordon R. Willey Endowment
Pillars ($1000+) and Golden Founders ($500-$999)
Wendy Ashmore
Timothy Earle
Susan D. Gillespie
Joyce Marcus
David Hurst Thomas
Rosemary A. Joyce
H. B. Nicholson
Katherine Spielmann
Silver Founders ($250-$499)
Minette Church
Suzanne K. Fish 
David C. Grove
Paul Healy
Teresita Majewski
Patricia McAnany
Barbara J. Mills
Tom Rocek
Jeremy Sabloff
Robert Sharer
Anonymous (2)
Bronze Founders ($100-$249)
E. Wyllys Andrews, V
Ronald Alan Covey
Janet E. Levy
Anonymous (1)
Other Founders
Marilyn Beaudry-Corbett
Anonymous (1)
Supporters of the Gordon R. Willey Endowment
Pillars($1000+)
David G. Anderson
Wendy Ashmore
Anonymous (1)
Golden Supporters ($500-$999)
Janet E. Levy
Ben Nelson
Silver Supporter ($250-$499)
Cathy Costin
Bronze Supporters($100-$249)
Elizabeth M. Brumfiel
William Fash
Susan Gillespie
Jeremy Sabloff
Patty Jo Watson
Special Donation 
Jeremy A. Sabloff and William L. Fash donated the royalties of their edited volume Gordon R. Willey and American Archaeology (2007 University of Oklahoma Press)